$ 5.49

Touchscreen 2-Pack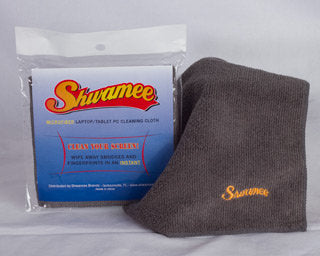 The smudges and fingerprints on your shiny new iPad are no match for the cleaning power of a Shwamee™ Touchscreen Cleaning Cloth.
Made of durable and long-lasting microfiber terry like our Original Shwamee™, but in a new handy size (9 x 9 inches) for carrying with you, these cloths make the perfect companion to any glossy-face touchscreen device. They work great on iPads, tablet PC's, and all manner of today's new touchscreen smartphones (iPhone, HTC EVO, Palm Pre, etc.).
Use them dry for everyday wipe-offs, or lightly wet your hands and dry them on the cloth once for the perfect amount of dampness to tackle even the most stubborn of greasy, grimy smudges.

Available in two-packs, Shwamee™ Touchscreen Cleaning Cloths are 9 x 9 inches and, like all our products, are machine washable in cool water. A standard two-pack order also includes one of our handy eyeglass cloths.
Colors may vary, generally gray or light-blue.